Rektörümüz Prof. Dr. Ömer ÇOMAKLI Etkinliklerimize Katıldı.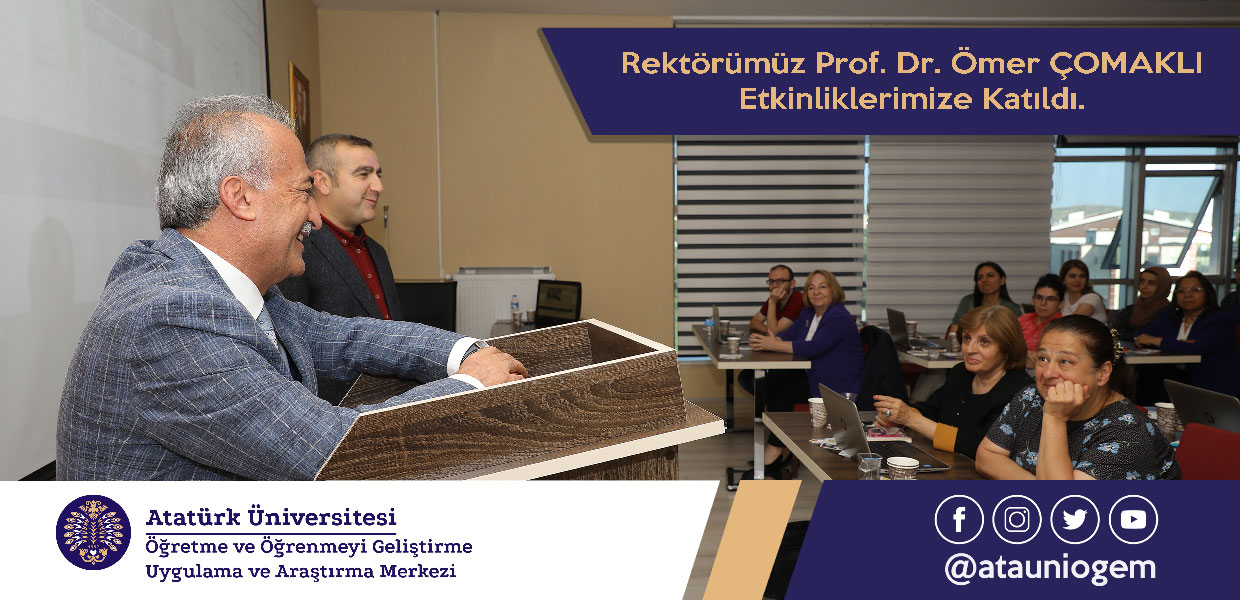 Rector of Atatürk University Dr. Ömer Çomaklı visited the Learning and Teaching Development Research and Application Center (ATA-ÖGEM) established to contribute to the development of learning and teaching processes at university level.
ATA-ÖGEM organizes various courses for faculty members who want to improve their teaching skills by expert academicians. He gave a total of 48 trainings to 250 faculty members to support their pedagogical and technological knowledge. Informative printed and digital materials of all trainings are published on social media accounts and web sites for the benefit of faculty members.
Emphasizing that this center was established in order to move Atatürk University to the leading position in international learning and teaching by using modern methods and approaches applied in the 21st century. Dr. Rector Çomaklı, established for a world-class education quality education center; He said that the faculty members offer many services such as publishing and researching in their fields with analytical thinking and providing consultancy services.
Encouraging Student-Centered Education
Rector Çomaklı, who drew attention to the possibilities of seminars and consultancy services provided at ATA-ÖGEM, said: olarak As a university, our principle is to be sensitive to corporate goals and priorities. ATA-ÖGEM, which operates in this context, aims to promote the culture of learning and teaching in accordance with the requirements of the age and encourages student-centered and research-based pedagogical practices. Through the activities carried out within the center, faculty members are supported to improve, restructure and update educational processes in line with national and international scientific understanding. "
"We Improve Individual Teaching Styles"
"Since its establishment, our center has been focused on promoting a corporate climate that aims to excellence in learning and teaching, AT said ATA-ÖGEM Director Prof.Dr. Dr. Yüksel Göktaş stated that they carry out joint studies with faculty members and students throughout the university and continued: We organize seminars, workshops and conferences on effective, efficient and satisfactory teaching practices, assessment methods, technologies, methods and techniques that will enrich the educational environment. For the students, we continue to work on technical infrastructure that introduces various aspects of pedagogy and helps them develop individual teaching styles. "